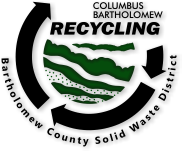 City of Columbus Brush, Yard Waste, and Leaf Collection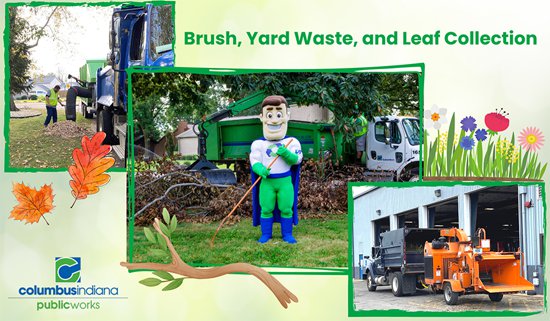 Brush/Tree Limb Collection
Curbside brush collection is provided for City residents on a weekly basis. All brush will be collected by the chipper on the same day as your regular trash pickup.
Please stack brush neatly at the curb.
Brush must not exceed 6' in length. Shrubs with roots must be dirt free.
Small amounts of brush, such as an armful of small sticks/twigs may also be placed in your trash toter.
Brush from contractors will not be collected.
You may call the Sanitation Department at 812-376-2509, or use the CurbCycle app to request a pickup for very large piles of brush/tree limbs.
City of Columbus Yard Waste Program
There are two ways to participate in the City's Yard Waste Program. You may purchase the service from the Department of Public Works directly, or you may purchase a "TOTER" brand yard waste toter with a bar at Lowes Home Improvements Store, 3500 10th Street, (812) 376-0521. Lowe's has 96 and 64 gallon sizes available.
Yard waste collection will take place the same day as your regular trash pick-up, weekly.
Limbs, sticks, and anything woody should not be placed in your yard waste toter. You may set these at the curb for the chipper to collect.
Yard Waste must be free of all trash, or it will not be collected.
What we accept:
Grass, Weeds, Thatch
Leaves
Flowers
Leftover Garden Plants after Harvesting
Sunflower and Corn Stalks
Maple Seedlings aka "Helicopters"
Pine Needles/Cones
Decorative Grass
Green Hedge Trimmings
Small Amounts of Dirt/Sod - do not Overload Toter
What we do not accept:
Sticks/Branches/Wood
Tree Fruit (Apples, Pears, etc.)
Sweetgum Pods aka "Gumballs"
Tree Nuts, Chestnuts, Walnuts, etc.
Rosebushes or Trimmings
Woody Vines/Trimmings
Stones
Trash, Garden Pots, or Soil/Mulch Bags
Household Food, Scraps, or Leftovers
Loose Leaf Collection (Seasonal)
Loose leaf collection is a seasonal program that runs from October to mid-December. City residents may rake their loose leaves to the curb, and have them picked up the same day as their regular trash collection.
Please rake all leaves to the curb, and not in the street.
Piles must unobscured, and free of brush/limbs, decorative grasses, debris or trash.
Do not park vehicles on or near your pile, as this may result in a missed collection.