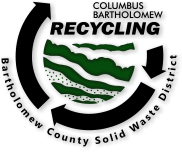 Columbus Dept. of Public Works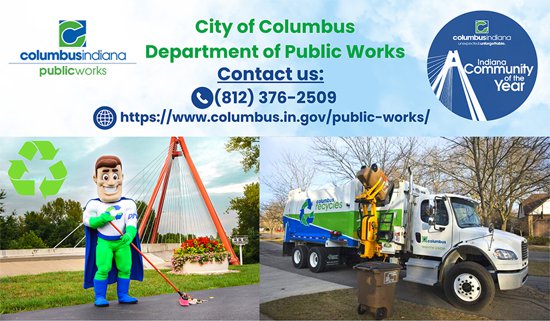 NEW!
The City of Columbus Department of Public Works now offers two apps to help make your collections easier than ever! Use our CurbCycle app to make your own on-demand pick up request, and never miss your collection day again with Columbus Collects! Please visit our ►Website for more information, or to download today.
Stay updated on important information in our community by liking us on Facebook at ►@ColumbusRecycles!
Curbside Trash/Recycling Service
Trash collection is provided by the City of Columbus Sanitation Department one time per week. Curbside collection of recyclables is provided every other week and will be picked up the same day as trash pickup. You may refer to the letter on your recycling toter to see if you are an "A" or "B" week pickup. Please space your toters at least 2-3' apart, and have them out by 7am on the day of your collection. To purchase a service, or replace a toter, please call us at 812-376-2509.
"Bulky" Item Pickup
Bulky item collection is an on-request basis only. You may set up to 20 bags or boxes and one piece of furniture or appliance at the curbside for pickup. Items must be set out to the curb before calling the Department of Public Works to make a ticket for your pickup. We will not collect house clean outs. NEW- You can also use the City's CurbCycle App to make your bulky item pickup request! Just remember to have your items out before you submit your ticket. Please visit the City's website under Public Works for more information, or to download the apps.