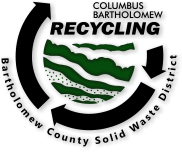 Adopt-a-County Road
Note: The slideshow below contains audio.

Requirements
Adopt at least a one and a half (1.5) mile stretch of county road and commit to keeping that road clean for two (2) years.
Conduct at least two (2) organized litter clean-ups each year.
Complete a summary report for each clean-up.
Watch an orientation video and sign a liability waiver releasing the District of any responsibility should an accident occur.
Contact the District office at least one week before each clean-up to reserve a roadside kit, and to allow the District to make arrangements for trash pickup, if needed.
Minimum age of volunteers is 12 years old.
Safety Considerations
What's Provided
Signage along the collection area proclaiming your group's dedication to making Bartholomew County a cleaner, healthier place to live.
Press release announcing your group's commitment.
Portable safety signage.
Trash bags for clean-ups.
Returnable safety vests and work gloves.
Pickup of trash bags the day after the clean-up if needed.
Please contact us by calling 812.376.2614 for more information regarding this program.