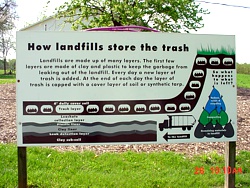 Residents and businesses located in Bartholomew County can dispose of their waste at the Bartholomew County Landfill. Loose loads of trash must be tarped or the user will be assessed a surcharge. Liquids, PCB's, oil, oil based paints, hazardous wastes, yard waste, tree trimmings, white goods (appliances), closed topped drums, hot burn barrels, electronic waste and whole tires are banned from landfill disposal.
$20 fee for TV and Computer Monitors recycling.
See Recycle/Reuse (►Here) to dispose of these banned items properly.
811 E. CR 450 S., Columbus, IN 47201
Phone: 812-342-2756
Hours: Monday - Friday 7:30 am - 4:30 pm • Saturday's 7:30am - 4:00pm

(Backside of Landfill closes at 1pm)

Fees:
Loads < 200 lbs:
One load per day free of charge.
Loads > 200 lbs:
$27.50 per ton.
CFC Appliances (refrigerators, etc.):
$20 Each
Computers - TV's:
$20
Quartered Tires:
$47.50 per ton/All loads
Whole Tires:
Fee structure is as follows;
Light truck and car tires w/o rim - $1.50 per tire
Light truck and car tires with rim - $2.50 per tire
Truck tires (19.5 & up) w/o rim - $7.00 per tire
Truck tires (19.5 & up) with rim - $13.00 per tire
Floaters (wide truck tires) w/o rim - $11.00 per tire
Floaters (wide truck tires) with rim - $18.00 per tire
Farm tractor tires - $50.00 per tire