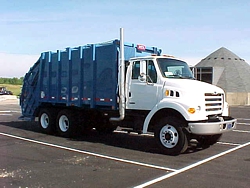 BCSWMD provides curbside collection of cardboard and office paper to businesses located within the City of Columbus. Each location is eligible for pick-up up to 3 times per week.
Cost: The service of this container is free. The business needs to purchase a rear load container of size that works for your cardboard and paper use. BCSWMD will provide "cardboard only" decals to communicate the purpose of your container.
Materials Accepted:
Corrugated Cardboard - Must be flattened. Styrofoam and inserts and plastic film must be removed.
Paperboard - Must be flattened and inserts removed.
White Paper - Staples are OK. No paper clips. Place in clear bag. Do not overfill.
Computer Paper - Includes computer paper with bars. Place in clear bag. Do not overfill.
Mixed Office Paper - Includes colored paper, carbonless forms, flyers and Post-it notes.
Junk Mail - Includes envelopes with windows, brochures. Must be all paper. No CD's.
Shredded Paper - Any color. Do not overfill bags.
Magazines - Must be separated from all other paper. Double bag. Only fill 1/3 of bag.
Materials NOT Accepted
No paper towels, napkins, tissue or toilet paper.
No packaging material. Please remove all plastic wrap, Styrofoam, etc. before placing cardboard in your container.
No potato chip bags, candy wrappers or gift-wrap.
No trash.
No Newspaper, books or phone books.