Event Recycling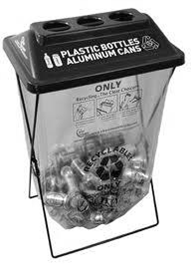 Activity: Conduct Recycling at Various Community Events
Brief Description of Activity: Conduct recycling of plastic bottles and aluminum cans at various public community events. Bartholomew County Solid Waste would provide event recycling containers and plastic disposal bags. Recycling at the event would include surveying for contamination, emptying recyclables and taking recyclables to central location. At the end of the event recyclables would need to be transported to one of our roll-off recycling containers (Kroger, Harrison, Petersville, or Landfill) for proper disposal.
Estimated # of Hours Involved: Year-long to length of event commitment
Targeted Groups: Groups looking for community service, group size of 3 individuals or more, children's age (with adult supervision) to adult groups.
Characteristics Needed: Commitment and ability to be at day long events, Ability to transport bags of recyclables, Able to coordinate volunteers and correspond with event organizers.
Mission/Description: To provide cost effective, environmentally sound programs of waste management and waste reduction for all residents of Bartholomew County.
Please contact Jessica Norcross, Education Coordinator by calling 812.376.2614 or email at
jnorcross@bartholomew.in.gov
720 South Mapleton Street, Columbus, IN 47201