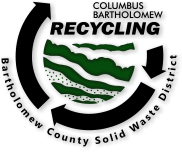 Accepted for Recycling
Items accepted for recycling listed alphabetically.
Click on the letter your item begins with and view reults below.
H List
HALOGEN BULBS See LIGHT BULBS
HANGERS
Metal hangers are accepted as scrap metal at the Columbus Bartholomew Recycling Center or Bartholomew County Landfill. Plastic and wood hangers are not accepted for recycling.
HEARING AIDS
Lions Clubs accept used hearing aids at designated locations. Find a location at ►www.lionsclubs.org. Remove battery if disposing of hearing aids in the garbage.
HERBICIDES (liquid)
Pesticide Clean Sweep ►Pesticide Section - Clean Sweep (purdue.edu)
HID LIGHTS (Sodium, Mercury, Metal Halide) See LIGHT BULBS
HYPODERMIC NEEDLES/SYRINGES
Hypodermic needles should NOT be placed in the trash or recycling.
Needles and syringes are accepted for disposal at the Bartholomew County Health Department Public Nursing Division, located at 2675 Foxpoint Drive, Suite B. Call 812.379.1555 for more information.