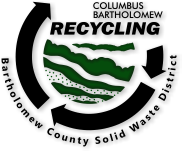 Accepted for Recycling
Items accepted for recycling listed alphabetically.
Click on the letter your item begins with and view reults below.
E List
EGG CARTONS
Foam egg cartons are not recyclable. Reuse for craft projects. Dispose of in the garbage. Cardboard egg cartons can be recycled. Food pantries may need egg cartons to distribute eggs. Both types can be donated to the Little Red School House for reuse by Bartholomew County educators.
ELECTRONICS
Small corded electronics and cell phones are accepted for recycling at the Columbus/Bartholomew Recycling Center and Bartholomew County Landfill during regular hours. Computer monitors and televisions have a $20 per item fee. Due to space limitations at the Columbus/Bartholomew Recycling Center, projection televisions should go to the landfill for recycling.
►Best Buy, 1343 N. National Rd., Columbus, 812.314.6960
►Staples
►Shares, Inc. 832 Elston Drive, Shelbyville 317.398.8497
ENVELOPES
Recyclable at all BCSWMD facilities. Please sort with junk mail when using the Columbus/Bartholomew Recycling Center.
EXPLOSIVES
Contact local law enforcement.
EYEGLASSES
Lions Clubs accept used eyeglasses at designated locations. Find a location at ►www.lionsclubs.org