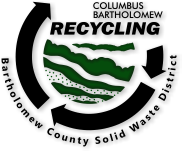 Accepted for Recycling
Items accepted for recycling listed alphabetically.
Click on the letter your item begins with and view reults below.
R List
RADIATOR FLUSH See AUTOMOTIVE
RAGS Dispose of in garbage.
RECHARGEABLE BATTERIES See BATTERIES
REFRIGERATORS See APPLIANCES
ROOFING MATERIALS See CONSTRUCTION & DEMOLISION DEBRIS
ROOFING TAR
Latex roofing tar is not considered a household hazardous waste and can be disposed of in the garbage once dry. Non-latex asphalt sealer is HHW, but is not accepted in the Tox-Away Program at the Columbus/Bartholomew Recycling Center. Read label for recommended disposal instructions.
ROOT KILLER See HOUSEHOLD HAZARDOUS WASTE
RUST INHIBITOR Dispose of in garbage.