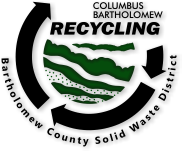 Accepted for Recycling
Items accepted for recycling listed alphabetically.
Click on the letter your item begins with and view reults below.
Y List
YARD WASTE
There is no fee for residents of Bartholomew County to dispose of yard waste generated from their property. Commercial yard waste businesses are charged a fee based on the size of the load.

Compostable materials go in the lower level:
Grass clippings
Tree fruit
Leaves
Sod & Soil
Garden waste
Thatch
Flowers
Weeds
Straw
Woody materials go in the upper level:
Tree trimmings
Pine cones
Rose bushes
Woody vines
Corn/sunflower stalks Shrubs
Bushes
Brush
YOGURT CONTAINERS
Check the number in the recycling triangle, usually on the bottom of the container. #1 and #2 plastics are accepted at all BCSWMD facilities. Must be empty, clean, dry, and loose. Do not put plastic bags in the recycling bins! Lids can be left on. Sort by number when visiting the Columbus/Bartholomew Recycling Center. Plastics marked with #3-#7 are not accepted.